Develop your maker skills as you build your own portable speaker. You can build the speaker using a Mason Jar, or get creative and build your own enclosure.
Grab this KIT & build a Mason Jar Speaker to play tunes from your smartphone & tablet. BUT WAIT: it's also an electric guitar amplifier! Plug in & bust out those wicked solos. Great first project, you'll have music after 26 solder joints & some simple assembly. Impress your friends with a speaker you built with your own hands!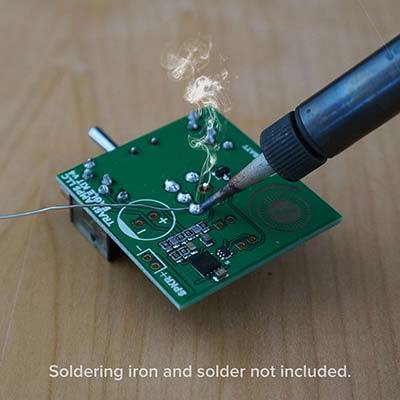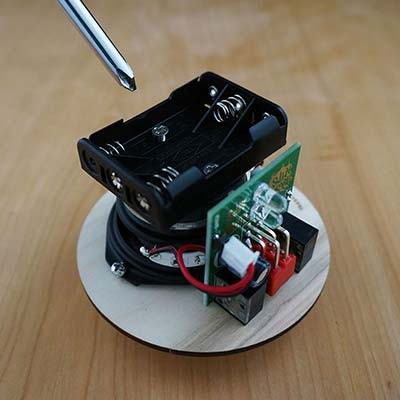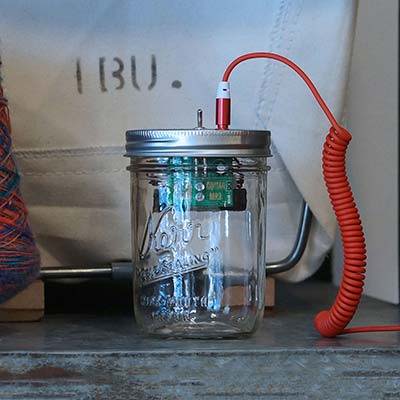 Buy a kit with a jar, or use a jar from home!
Here's what the kit includes
Printed Circuit Board (PCB)
Toggle Switch with Hex Nut
2x 5mm Red LED
2x 3.5mm AUX Jack with Round Nut
2x 2-pin Straight Male Header
Capacitor (1000uF)
3x Button Head Screw
3x Flat Head Screw
2 Inch Full Range Speaker
Battery Holder (3x AAA)
Laser Cut Wooden Top
Wooden Part Aligner
3.5mm Spiral Cord
Trash Amps Guitar Pick
Guitar Adapter (optional)
Mason Jar and Ring (optional, not shown)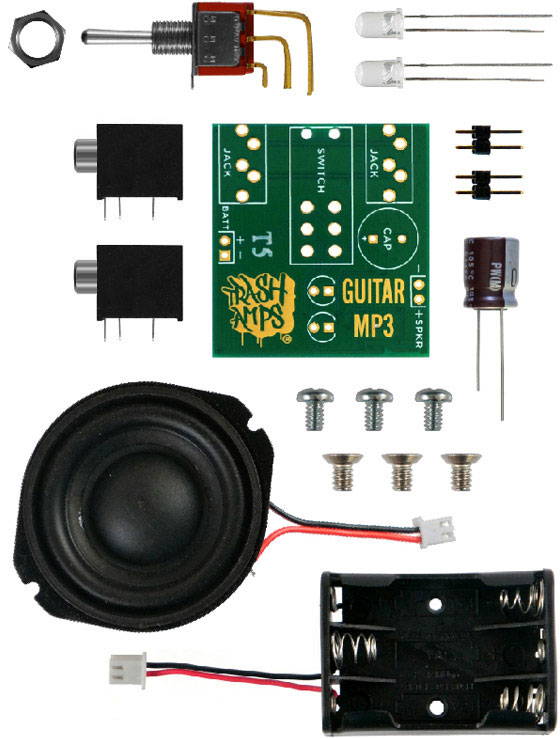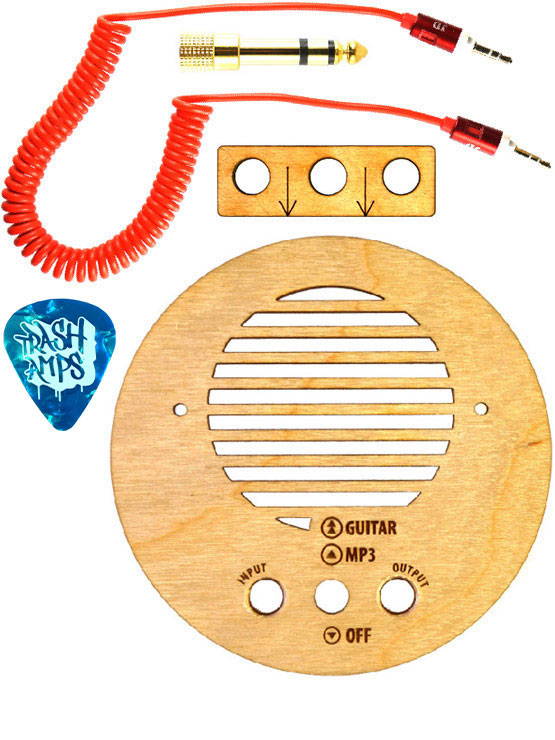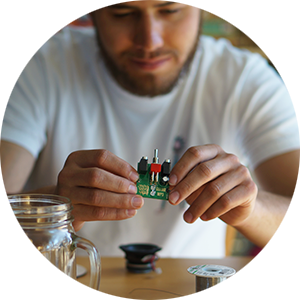 Great Starter Project
Learn about electronics and soldering as you build your own speaker. Assembly requres about 45 min (beginner) or 10 min (expert). Recommended for ages 12 and up.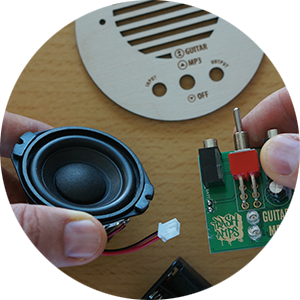 Amazing Sound
Surprisingly great sound for your bedroom, kitchen, or backyard BBQ. Kit includes a 2 inch full range speaker driver and a 2.4W amplifier (140 to 20 kHz).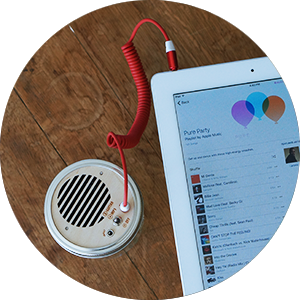 Plug and Play!
Works with any device with a headphone jack: iPhone, Android, iPod, tablet, laptop, etc. Open your favorite apps and press play: Spotify, Pandora, Apple Music and more.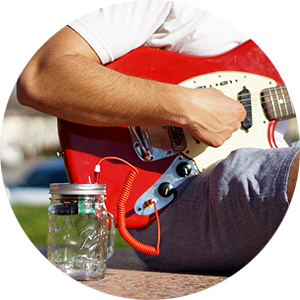 Guitar Amplifier
Hook up your electric guitar using the AUX cord and 1/4 inch adapter (included). Flip the Toggle Switch to GUITAR Mode and bust out those wicked solos!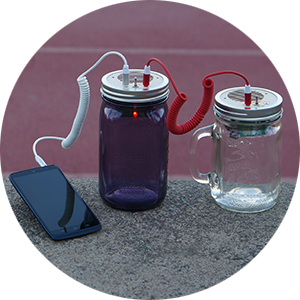 Daisy Chaining
Each speaker has an "Input Jack" and an "Output Jack," so you can connect multiple speakers together for louder and louder sound. The more the merrier!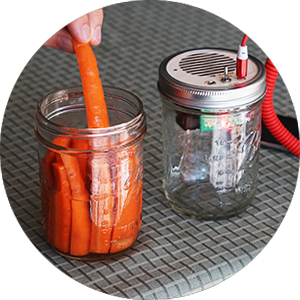 Reuse It For Music
The glass Mason Jar is Earth-friendly because it is easily reused and recycled. Better yet, reuse a jar from home so we don't have to ship one in the mail.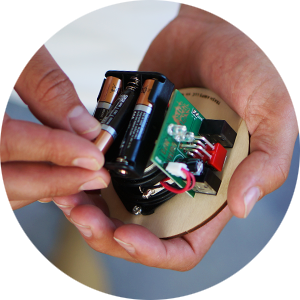 Long Battery Life
3 AAA Batteries give you about 8 hours of music (not included). Or purchase the Rechargeable Battery Upgrade and ditch the disposable batteries!
Tools required for this project
(these items are not included with your kit)
Soldering Iron with fine point tip
Any of these will do the trick! You may already have one at home. If not, we recommend you pick one up from Amazon.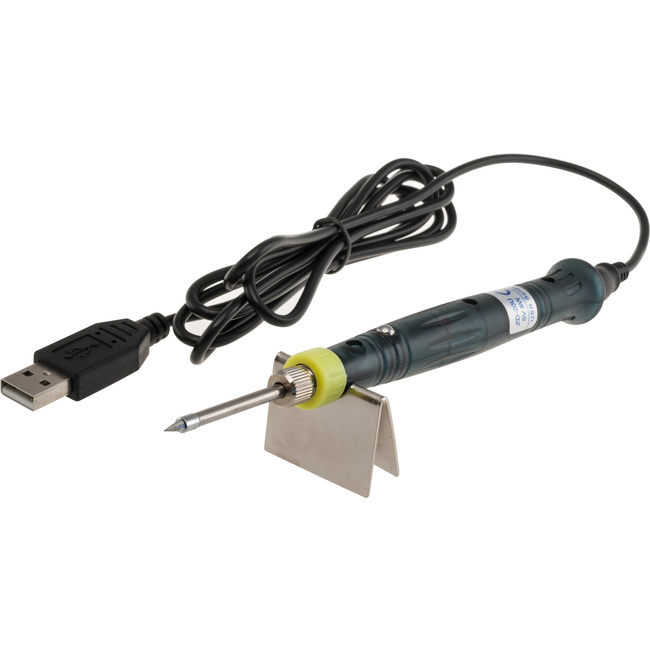 USB Soldering Iron 5V 8W ($9)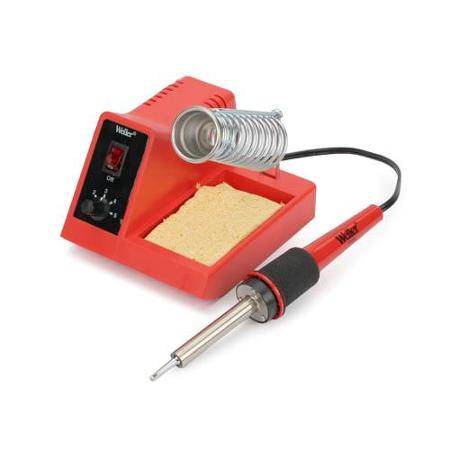 Weller Soldering Station 40-watt ($40)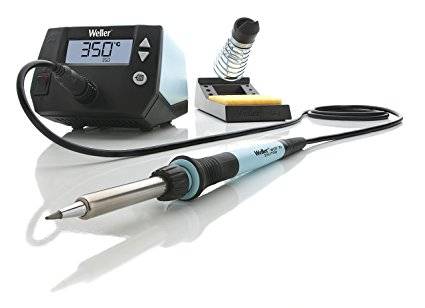 Weller Digital Soldering Station ($110)

More information coming soon!
More information coming soon!
Phillips Head Screwdriver
More information coming soon!
More information coming soon!
Buy a kit with a jar, or use a jar from home!
Word On The Street
Word On The Street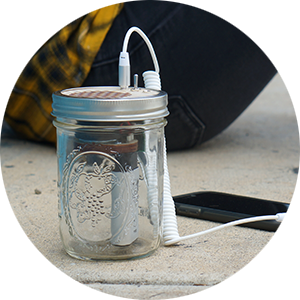 Beth from Boardman, OH:
I built my Trash Amp yesterday, everything is running smoothly. Loving it and it has a great sound. These would be great for campfire nights on my property. You are a small company, and handmade/USA made was a draw for me. I enjoy crafting and creative things and was impressed with the new idea, and the use of items that one wouldn't normally think to put together.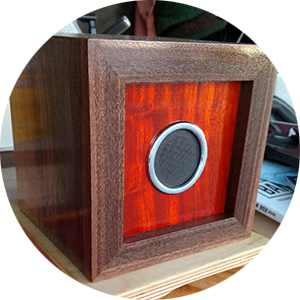 Steven from Hampton, NH:
I started my kit in a jar and then made a quick cabinet for it to see how that changed the sound. I have played my mp3 player through it and my guitar. It sounds way better than I imagined it would. I wish you guys great success. You have a fun and interesting product and as far as I can tell, an excellent business practice. Thanks for taking the time to help me sort out my soldering!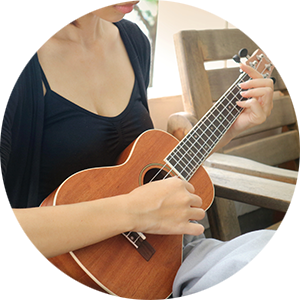 Diane from Los Angeles, CA:
The mason jar speaker is remarkable. It has great sound quality, even my friends who are professional musicians were impressed. So far, we enjoyed hooking it to a guitar, a ukulele, and an iPhone. My son wants to get another speaker kit to build inside of a cigar box guitar he is constructing. Customer service was responsive, prompt, and cordial. I am delighted with the product and the service!
Sara from Norco, CA:
I actually purchased 17 speaker kits, one for each kid in my family! lol These are pretty cool amps! I've checked out a few other types of kits and yours is by far the best quality and it looks good. Professional! Thank you again for everything!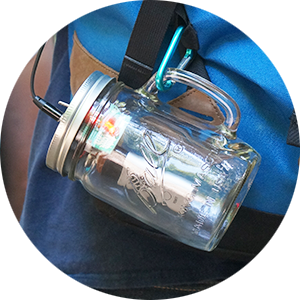 Dan from Soquel, CA:
My son liked the Mason Jar Speaker Kit as his present and he thinks it's a very unique project and sounds great! I like the sound as well! I have a good friend who plays jazz guitar and I will be buying another mason jar speaker kit soon. Keep up the good work!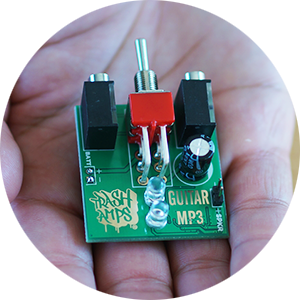 Cameron from Waukesha, WI:
I love the finished product. I have soldered printed circuit boards before. As an engineer (mechanical :0) ) I liked the clever design. I have a little experience making kit amps and this is smaller and more useful. Nice job! I hope you have great sales and success!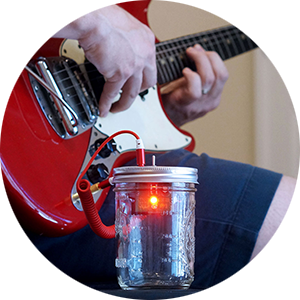 Bryan from Caledonia, MI:
I'm actually a pilot from Michigan, I do a ton of traveling and this amp is perfect for what I do. Now that I finished building it, I can finally take my electric quitar with me. I'll be sure to show it off everwhere I go. Thanks again. Oh and I couldn't pass on the amazing low price!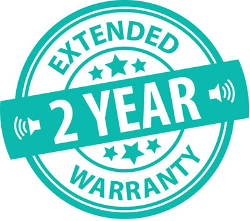 All of our products come with a standard 60 Day Warranty and Return Policy. We will fix, replace, or refund your order within 60 days of purchase if it breaks or if it doesn't suit your needs. We want all of our customers to be happy!
Extend the standard 60 Day Warranty up to 2 years when you register online (instructions provided after purchase). The Extended 2 Year Warranty means we're happy to fix or replace faulty speakers, cords, battery packs which break during everyday use for up to 2 years after purchase. We also help troubleshoot problems during Speaker Kit assembly.
Our Extended 2 Year Warranty is an effort to help the planet. We commit to fixing our products so they don't end up in the landfill.