With the combined strength
of product design (Adam) and Electronics (Ron),
an amazing product was born.
---
The Start
In college, our friend got an Altoids guitar amp kit online. It was a cool idea, but it didn't sound great because it's such a small enclosure. The same electronics worked great in a soda can. Then came the realization: you can put music in anything – Trash Amps was born. After showing a few prototypes to friends, we knew there was a market for a products like ours.
The Early Days
We started out with a small run of 100 Soda Can Guitar Amplifiers which utilized PVC pipe and off the shelf parts, built in a Silicon Valley Garage. After selling those, we wanted to up the level of quality so we raised money from family and friends for an injection mold. We built 500 Soda Can Speakers, which quickly sold through our website and booth at the local mall for $50 each. So, we made 1000 more. We're talking 1,500 units made by hand on the dining room table. Trash Amps has steadily grown over the years as we've expanded our product offerings. We've had customers from all over the world, music loves and musicians alike.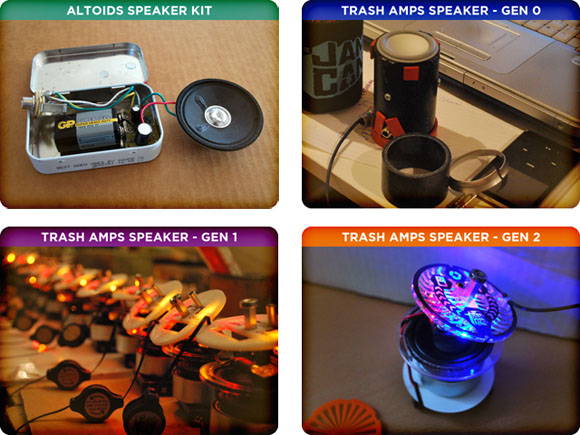 ---
Makers For Life
We've worked on projects such as towel warmers and LED disc golf discs. We are skilled in woodworking, injection molding, CNC machining, solid modeling, rapid prototyping, electronic design and assembly, and the list goes on. We do a lot of consulting for local inventors with new product ideas, helping turn their ideas into working prototypes. Got a project for us? Drop us a line!
Adam has a BS in Manufacturing Engineering from California Polytechnic State University (Cal Poly) in San Luis Obispo, CA. Ron has a BS in General Engineering and MS in Industrial Engineering also from Cal Poly. Having worked on many projects together, workflow is efficient.
Adam typically does the product design, packaging design, and SolidWorks 3D Modeling – everything the manufacturer needs to make the product. Ron specializes in electronics, circuit design, and prototype PCB creation. Ron has completed all of the electronics design. This includes circuit design, schematic creation, board layout, prototype creation, circuit testing and optimization using software, testing and optimization of real prototypes, and creation of manufacturing documents including pick and place data, board panelization, etc. For you tech people, Ron is a very skilled PCB prototype maker, as he can put down parts as small as 0402 in the garage.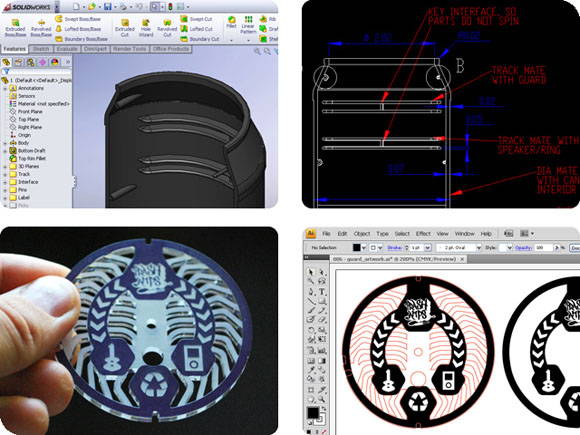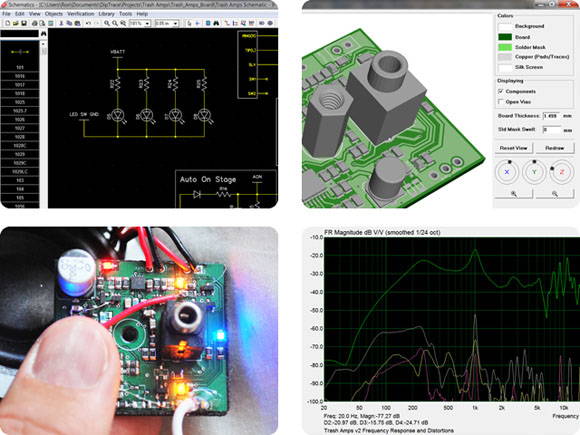 ---
How do we ship packages?
Watch the video now to find out what bicycles and dogs have to do with shipping packages!