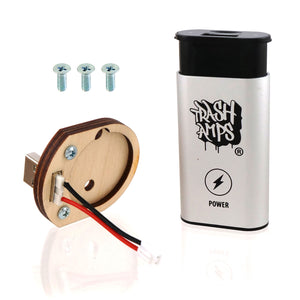 What's Included: Rechargeable Battery Pack, Wooden Mount with USB plug, 3x flat head screws for mounting.
The Rechargeable Battery Pack Upgrade gives you more power for higher volumes and better music quality. Simply unscrew the AAA Battery Holder and screw on the Rechargeable Battery Mount, all you need is a screwdriver!
No need to purchase disposable batteries.
No more disposable batteries sent to the landfill - go green!
Battery life is approximately 5 hours (max volume) or 10+ hours (moderate volume).
Charge with any USB wall plug or computer port.
Does this really give you better sound quality? Yes, the Rechargeable Battery Pack provides higher volumes and better music quality because of the built-in voltage regulator which keeps the voltage at 5V until it's time to charge. Disposable batteries start at 4.5V and progressively drop in voltage as time goes on. The lower the voltage, the poorer the sound quality. We're confident you'll be happy with this upgrade!